Good Morning!!
Seeing as we will be closed on Monday, and I am being a "Part-timer" as my general manager calls it, I am starting my weekend early by also being off tomorrow. So here is my Monday blog on a Thursday!!


I have to make a some declarative statements..
THE CHRYSLER ECO DISEL IS NOT A CUMMINS
CUMMINS IS THE EXCLUSIVE SUPPLIER OF RAM DIESEL POWERPLANTS IN THE HEAVY DUTY LINE (2500/3500/4500/5500)
CUMMIS AND RAM ARE WORKING ON A 25+ YEAR PARTNERSHIP AND HAVE NO PLANS OF SPLITTING OFF FROM THAT WINNING COMBINATION


Now we got those big things out of the way, on to the other elephant on the page. The Eco Diesel and Cummins 5.0 comparison is more apples to oranges then apples to apples. It's like Viper and Corvette. Two totally different classes of cars, but where they are both America performance coupes they get matched up. Much like the Ram Eco Diesel and Nissan Cummins, both half ton diesel pickups; they're bound to get compared.


The Cummins first:
This power plant is geared towards performance first. Nissan has exclaimed they were aiming at power first then on to fuel economy as a second.


It's more of a conventional diesel than the Eco. It's a big 90 degree V8 diesel.
The charge air system is run by 2 Holset turbos, with a smaller one feeding a larger one to cut down on turbo lag. This is the official word from Cummins "The modulated two-stage system can have a high-pressure turbocharger far smaller than that of a conventional two-stage system, improving transient performance by reducing the turbocharger lag that affects both driveability and emissions" (Diesel Army). The Cummins uses a tried and tested Bosh Piezo fuel injector setup as well. They are capable of firing up to 5 times per combustion cycle


As for the electronic controlling of the engine, it utilizes a started 'Cummins Controller', that us RAM guys are familiar with in the RAM Heavy Duty line.


Now for the Eco Diesel:
The Eco Diesel is produced by VM Morori, a high performance diesel engine manufacture, wholly owned by the Fiat group. They are not only an automotive diesel supplier but also in the marine, industrial, and power generation fields. Bottom line, they have a lot of experiences with diesel engines. Here's the quick intro "M Motori S.p.A. is an Italian diesel engine manufacturing company which is wholly owned by Fiat Chrysler Automobiles through its subsidiary Fiat Group Automobiles. VM headquarters and main production facilities are located in Cento, in Emilia-Romagna, Italy" (Everything About Boats).


Now on to the actual engine; it's a 60 degree V6 engine. It utilizes aluminum heads and a CGI (Compacted Graphite Iron) block just like the Cummins V8. The block and heads material is about all they share in the way of similarities.


For a quick side note, both the Eco and 5.0 use 4 head bolts per head. "A concern for us in the performance market, would be that both engines run four bolts per cylinder instead of six. If the 6.0 and 6.4 Liter Power Stroke had not run into so many head gasket issues, we probably won't worry about it as a number of gasoline engines run four bolts per head" (Diesel Army). For the record I do not like this…
The charge air system on the Eco Diesel is a single VGT (variable geometry turbo) buried deep in the valley of the V6. You RAM Cummins guys are familiar with VGT and if you're not here's the 411: "Variable Geometry Turbocharger, with a unique patented one-piece sliding-nozzle design, precisely adjusts the airflow delivered to the engine. This combines the benefits of a small and a large turbocharger in a single unit" (Cummins Engines). The impeller wheel on the compressor side of the turbo slides to increase and decrease impeller size to reduce lag and still have big turbo performance.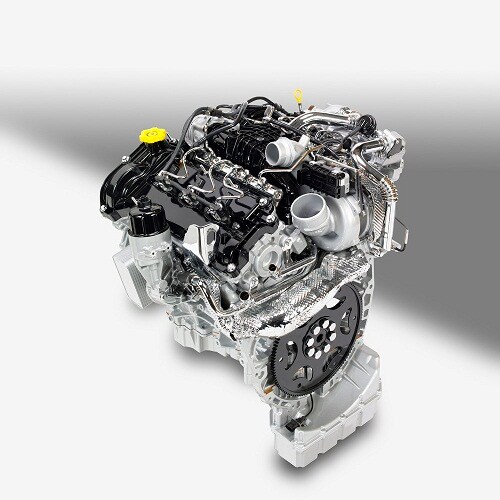 The Fuel system is a little more advanced than the 5.0s as well. It's a system used on most Fiat Group diesels "The EcoDiesel is running a Fiat system that is able to fire up to eight times per event. This slight difference could mean the EcoDiesel is slightly quieter at idle and low rpm than the Cummins" (Diesel Army).


As far as controlling the engine it uses the same thing every other RAM truck does, and that's a center unit, the PCM or Power Train Control module. I know the aftermarket diesel lovers cringe at that because of the problems in tuning they've had with the 1500s but with time the aftermarket will catch on.
So guys there we have it. That's my take on the two engines that shouldn't be compared but end up getting compared anyway. To save you a lot of babbling from me, I found an article that concludes them perfectly.
"WINNER OF THE CARDEBATE: 2014 RAM 1500 ECODIESEL
Truck enthusiasts who get hard-ons over pure unadulterated power may find that the Cummins V8 in the Titan Diesel is the better of the two engines, but those looking for a capable and efficient all-around engine are sure to find that the 2014 Ram 1500 EcoDiesel's V6 is the better of the two options." (Car Debate).
Thanks so much for reading! What to debate, hit me up! Twitter, Facebook, Instagram, I'm there!
Everyone please have a safe weekend and make some memories as we close out Summer '16. It's sure been one hell of a ride them summer. Now on to fall, football, the holiday seasons, and Deer hunting!
-@AstidySRT
Sources:
http://www.dieselarmy.com/engine-tech-2/titan-5-0l-cummins-vs-ram-3-0l-ecodiesel-head-to-head-comparison/
http://www.cardebater.com/2014-ram-1500-ecodiesel-vs-2015-nissan-titan-diesel/
https://cumminsengines.com/vgt-turbocharger
http://www.absolutelyeverythingabout.com/boats/vm-motori/